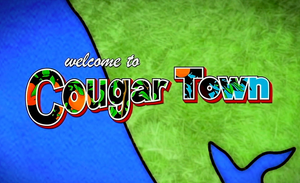 Cougar Town is an American sitcom that premiered on ABC on September 23, 2009. It was created by Bill Lawrence and Kevin Biegel. It just finished off its fourth season, and TBS has already ordered a fifth season.
Set in fictional Gulfhaven, FL, the series follows protagonist Jules Cobb (portrayed by Courteney Cox) and her group of close knit friends as she becomes accustomed to her recently divorced/newly single status, including her re-entrance to the dating world.
Cast & Characters
[
]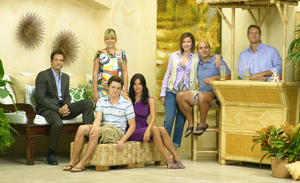 Main Cast and Characters
[
]
Recurring Characters
[
]
Carolyn Hennesy as Barb Coman - Jules' business associate, and notorious cougar
Robert Clendenin as Tom Gazelian - Jules' odd neighbor
Ken Jenkins as Chick - Jules' father
LaMarcus Tinker as

Kevin

- Travis' college roommate
Ryan Devlin as

Smith Frank

- Laurie's ex-boyfriend
Sawyer Ever (formerly Christopher and Zachary Randazzo) as Stan Torres - Andy and Ellie's son
Collette Wolfe as

Kirsten

- Travis' ex-girlfriend
Category: Cast
Category: Characters
Seasons & Episodes
[
]
Naming Controversy
[
]
Originally other titles were considered, but "Cougar Town" was chosen because Lawrence thought that "the title is noisy and that people will be aware of this show." This titled referred to both the series setting (Gulfhaven with the North Gulfhaven High School mascot being a Cougar) and original premise (Jules, an older woman, dating younger men).
In May 2010, it was reported that the show's producers were considering a name change. This was due in large part a plot dynamic shift from focusing on Jules dating younger men to ensemble focus. Additionally, research suggested that many viewers who ignored the show based on its name, but actually enjoyed the show after seeing a screening of an episode.[1] During the second season, a changing subtitle was added to the opening sequence usually mocking the title.[2]
On May 27, 2011, Bill Lawrence announced through his Twitter account that the name of the show will change for season 3 with input from the fans, but did not give any further details.
Despite plans to change and copious alternatives, the show retained the original title for the third season, with the first opening sequence subtitle stating that "[they're] not happy about it". However, February 14, 2012, (the date of the third season premiere, Cox and Lawrence revealed in an interview that a title change could still take place for the fourth season.
Potential New Titles
[
]
40 and Single[3]
The Courteney Cox Show[4]
Grown Ups[7]
Modern Cougar Town[8]
Friends With Beverages[9]
Friend Without Boundaries
Cul-De-Sac Crew[10]
The Drinking Age[13]
Mid-Life[14]
The Sunshine State[17]
Family Jules[18]
Friends & Neighbors
Neighborhood Jules
The Cul de Sac
The End of the Street
The Neighborhood
Neighborhooding
Trivia
[
]
The vast majority of the episodes are titled after Tom Petty and the Heartbreakers songs.
Danny Pudi's character Abed Nadir on Community is a huge fan of Cougar Town. He's spoken about it several times and even appeared as an extra in the Season Two finale. Nadir later spoke about this in the Season Two Community episode "Critical Film Studies".

In the Season Three Community premiere, Abed is discouraged to learn about Cougar Town's mid-season premiere. To fill the void, the characters discovered that Cougar Town is an adaptation of a 1990s (fictitious) British sitcom, Cougarton Abbey. However, Cougarton Abbey only ran for six episodes before being cancelled.[4]
Abed's hopes for Cougar Town to last at least six season and have at least one full-length theatrical film.

Most of the main characters live Gulfhaven and on the Freeling Drive cul-de-sac.
Also See
[
]
Reference
[
]