Ellie Torres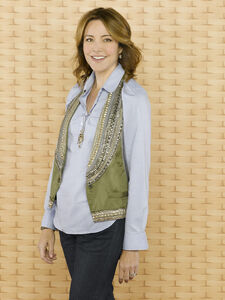 | | |
| --- | --- |
| First appearance | "Pilot" |
| Last appearance | Mary Jane's Last Dance |
Full Name
Elisabeth "Ellie" Torres
Nicknames
Ice Woman, E-Train, Golden Girl, Princess, Hot Flash, Gift Whisperer, Human Tape Recorder, Reading Glasses, Oldie McPhee, Queen of Mean, Lady Lizard Skin,
Relatives
Andy Torres (Husband)
Stan Torres (Son)
Sam (deaf brother),


Angela Torres

(Sister-in-Law)


Nestor Torres

(Brother-in-Law)
Stan Torres (Father-in-Law, deceased)
Betsy (Mother)
Portrayed by 
Christa Miller
"Sure, sure."
— Ellie Torres
Ellie Torres (portrayed by Christa Miller) is the wife of Andy Torres, mother of Stan Torres and best friend of Jules Cobb.
Biography
Elisabeth "Ellie" Torres is Jules' next door neighbor and best friend. Ellie is married to Andy Torres, and the two have a son Stan. She is the sarcastic, unapologetic confidante content who is often jealous of Jules' young assistant and friend, Laurie. She first met Jules when she and Bobby bought their house, at first she didn't like Jules because they were rednecks but eventually warmed to her after a conversation about her and Andy's relationship. Since then they've been inseparable. Ellie thinks Laurie is trying to steal Jules from her, and doesn't get along with Laurie. She also loves to gossip but feels that Jules' new lifestyle is coming between their friendship. She used to be a lawyer, it is unknown when she quit but she was still a lawyer when Jules and Bobby moved into Freeling Drive. She told Jules that "Once I found out me and Andy were sharing money, I quit my job bought myself a new T.V. and 10 pairs of sweatpants; never looked back".
Trivia
According to her drivers license, Ellie's D.O.B is 14th February 1975, and her address is 4027 Freeling Drive, Gulfhaven FL 32689.[1]
According to her husband Andy, she has only 7 minutes of the day where she is not sarcastic and snarky.
She is often rude to in general, people but refrains from "crushing people" if they are close to Jules or Andy. Such as when Andy's brother's wife was hitting on him.
She calls Laurie "jellybean".
She often needs a pin cushion or someone to express her anger at when she is very annoyed.
She often tells Jules that the gang would be better off without Laurie.
In "Learning to Fly" it's revealed that Ellie becomes drained and miserable from being unable to be snarky due to Andy's bet.
unable to See Also
Reference