Grayson Ellis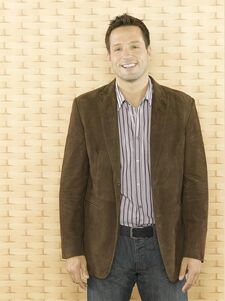 | | |
| --- | --- |
| First appearance | "Pilot" |
| Last appearance | Ongoing |
Full Name
Grayson Ellis
Nicknames
G-Love, Gray's Anatomy,
G-Whizz, G-Man,
Gray-Gray, Graymond, Dime Eyes,
Relatives
Jules Cobb (wife)
Vivian (ex-wife)
Tampa (daughter)
Gil Ellis (father)
Portrayed by 
Josh Hopkins, Bailey Forman
Grayson Ellis is Jules Cobb's neighbor and husband. He is portrayed by Josh Hopkins.
Biography
Grayson Ellis was born in 1970 (his age is given as 40 in season 2) to Mr and Mrs Ellis. During his childhood he was very close to his father, and one of his best childhood memories was that of his father and him building a model rocket ship. Both of his parents died in 2009, just before the series began.
During his childhood, Grayson participated in pageants, to Ellie's great amusement when she discovered this many years later. In his adulthood he also worked as an underwear model and as an exotic bartender in Florida, appearing in bartender calendars. At some point he relocated to Gulfhaven where he opened up his own bar, Gray's Pub,  where he is constantly bothered by his friends stealing beer and wine.
Grayson later married Vivian, whom he lived with next door to Jules. A few weeks prior to the first season, Vivian moved out, and while it was at first portrayed as being due to Grayson's frivolity, it was later revealed that Vivian had in fact left him due to growing differences between them, especially him wanting children which she allegedly didn't.
Season 1-2
At the start of the series, Grayson lived on Freeling Drive across from Jules Cobb. Due to her persistence, Grayson became friends with her and the rest of the group. Grayson eventually developed a romantic crush on Jules, and after keeping it to himself for several months, and subsequently attempting to be "friends with benefits" the two realized they should actually date. 
As their relationship progressed, it became clear that Grayson wanted children, while Jules did not due to her age and already having Travis. This nearly ruined their relationship until they both realized that they needed to compromise in order to make it work between them.
Season 3-4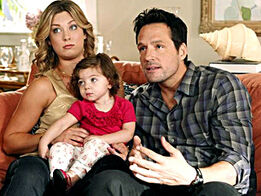 At the start of season 3, Grayson proposed to Jules, who gladly accepted. They got married soon after, and later moved in together in Jules' house, while Grayson sold his.
While still wanting children, Grayson discovered that he fathered a daughter, Tampa, during a previous one-night-stand.[1] It is also revealed that Laurie is Tampa's godmother.
Season 6
As the series ends, Grayson tells Jules she's the best thing to happen to him as they lay in bed and the series ends.
Trivia
Grayson originally coined the term "The Cul-de-Sac Crew" mockingly, but Jules liked the sound of it, and later adapted it as the gang's name.
Grayson and Travis have also had an unease around each other, particularly in the first season, but they gradually warm to each other.
Grayson is extremely conceited and vain.
Grayson use to make and sell jewelry while living in South Beach, Florida. He even made some pieces for Lou Diamond Phillips.[2]
Grayson plays the guitar and often composes short songs.
References