Travis Cobb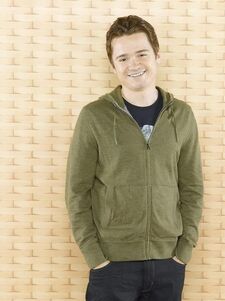 Travis Cobb (portrayed by Dan Byrd) is the sharp-tongued teenage son of Jules and Bobby Cobb.
Biography
Travis Cobb is confident, quick witted and keeps Jules on her toes when he's at home, however, when it comes to being social, Travis can get pretty awkward. He loves both of his parents very much, despite Jules saying whatever is on her mind without thinking and his always embarrassing dad. His pet peeves include any male that finds Jules attractive. 
Trivia
Although Travis identifies as straight, several individuals believe he could be gay.[1] Travis occasionally fakes "coming out" to several people including Andy Torres and Grayson Ellis. He even convinced Andy to march in a Gay Pride Parade.[2] At age twelve Travis got his first kiss from his gal pal Erin who turned out to be a boy named Aaron. Years later they had an awkward reunion
In episode Full Moon Fever, it's revealed that Travis could understand/speak French.
Born 1991.
Though Travis has a rather calm nature it is shown in the Pilot that if he gets furious, he can become a violent person. This may be due to the fact that he was being harassed and humiliated by middle schoolers. It may also hint that he is very over protective of his mother and doesn't like seeing her being made fun of.
References